op. 35 De speculis comburentibus
data:
"later Bacon: 1260-1292" [Hackett (1997c), 316-317].
"The availability of De speculis comburentibus to John Pecham by the time he wrote the Perspetiva communis requires it to have been composed no later than the mid 1270s." [Lindberg (1983), xxxiii].
alii tituli
Tractatus de speculis ustoriis (ms. E)
De multiplicatione lucis (ms. W)
Tractatus de speculis (ed. Combach, 1614)
El título De speculis comburentibus proviene del catálogo de Little (1914), pero ha sido conummente admitido.
catalogi
op. 17a Little (1914), 394-395.
editiones
Combach, I. (1614), Rogerii Bacconis Perspectiva, Frankfurt, 168-204.
Lindberg, David C. (1983), Roger Bacon`s Philosophy of Nature. A critical Edition, with English Translation, Introduction, and Notes, of De multiplicatione specierum and De speculis comburentibus, Oxford: Clarendon Press (ed. lat. a partir de 3 mss. E, R, W).
mss.
Oxford, Bodleian Library, MS Bodley 874 (secunda med. s. XIV), fols. 71-87.[ms. E Lindberg (1983)]
Firenze, Biblioteca Riccardiana, ms. 885 (c. 1350), fols. 200r-212r [ms. R Lindberg (1983)]
London, British Library, Cotton Tiberius B.ix, fols.?? [catálogo on-line]
Wien, Österreichische Nationalbibliothek, ms. 5311 (s. XIV-XV), fols. 101r-106r [ms. W Lindberg (1983)]
Oxford, Bodleian Library, MS Ashmole 440 (s. XVI), fols. 1-r23v (incompleto)
continet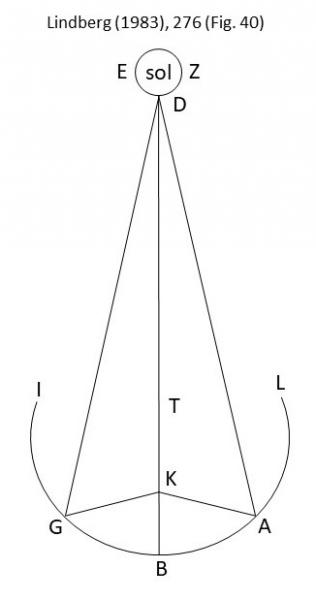 [ed. Lindberg (1983), 272-340]
[I] 'Ex concavis speculis ad solem positis ignis accenditur'. Hec ultima propositio Libri de speculis communibus [vide notas: nota 1)] sic demonstratur ibidem. Esto conavum speculum ABG, sol vero EDZ, et sit centrum speculi T…
[II] Sed quia in prima dictarum demonstrationum duo supponuntur, scilicet, quod multiplicatio lucis solis fit ab aliquo uno puncto sue superficiei ad omnia puncta…
[III] Quod etiam principalis et precipua multiplicatio lucis fiat a tota portione solis et non ab aliquo uno puncto potest probari manifeste…
[IV] Quod etiam lux non multiplicetur principaliter ab aliquo uno puncto solis, sed a tota portione eius, patet manifeste…
[V] Sed iuxta iam dicta, oportet salvare apparentiam rotunditatis incidentie transeuntis per formania angularia. Dico ergo quod cum lux…
[VI] Dicto de multiplicatione lucis incidentis que fit per lineas omnino rectas, dicendum est de multiplicatione lucis reflexe que fit per lineas tortuosas compositas…
[VII] Et quia iam demonstratum est quod tota pyramis reflexa sequitur radium axis reflexum, quia etiam axes sunt omnium fortissimi, ut prius dictum est…
[VIII] Sed presens intentio est de superficie que reflectit omnes axes solis incidentes ad eam totam in punctum unum, et hec est superficies concava corporis mukefi…
expl. Et concavitas que provenit est concavitas inventa. Hoc etiam notandum quod ovale comburit ante se, anulare retro. De distantia combustionis nichil certum scio ad presens. Explicit.
notas
nota 1) Lindberg (1983), 392, nota 1: "This treatise, which had a wide medieval circulation under the title De speculis or Liber de speculis, is generally regarded as a late Greek recension of a genuine Euclidena work. For an edition of the Greek text, see J.L. Heiberg and H. Menge (edd.), Euclidis Opera omnia, vii (Leipzig, 1895), 286-342; for a French tanslation of the Greek text, see Euclide, L'Optique et la Catoptrique, trans. Ver Eecke, pp. 99-123. There is no edition of the medieval latin text of this work; for a list of fifty-two Latin manuscripts, see Lindberg, Catalogue of Optical Manuscripts, pp. 47-50. The enunciation of this final proposition of De speculis, in the medieval version, is 'Ex concavis speculis ad solem positis ignis accenditur'."
(Autor: Óscar de la Cruz. Actualizado el 23.10.2019)