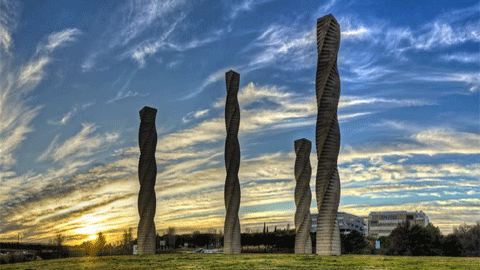 The Universitat Autònoma de Barcelona (UAB) is one of the major public universities in Spain, and it is in Cerdanyola del Vallès, near the city of Barcelona in Catalonia, Spain. The university consists of 57 departments in the experimental, life, social and human sciences, spread among 13 faculties/schools. All these centres together award a total of 85 qualifications in the form of first degrees, diplomas, and engineering degrees. Moreover, almost 80 doctoral programs, and more than 80 others postgraduate programs are offered. UAB has more than 40,000 students and more than 3,600 academic and research staff. The UAB is a pioneering institution in terms of fostering research. There are many research institutes in the campus, as well as other research centres, technical support services and service-providing laboratories, and the ALBA (synchrotron) located in the Barcelona Synchrotron Park is very close to the UAB.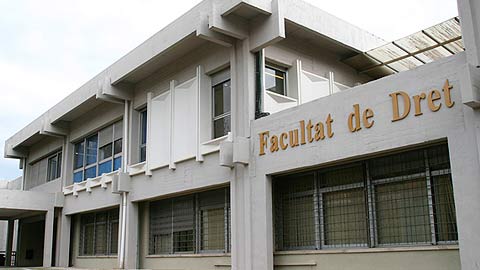 The UAB Institute of Law and Technology (IDT), housed at the Faculty of Law of the Autonomous University of Barcelona, is a research center promoting cutting-edge research on Law, Ethics and Technology from a multidisciplinary perspective. The IDT-UAB has extensive experience as ethical and legal partner of EU funded research projects. It is internationally renowned for its expertise in legal and ethical compliance of data-driven technologies in different domains. Research areas include ethical AI, data protection and privacy and algorithmic legal and ethical governance.
The IDT role in EU Projects entails: (i) identifying the ethical and legal framework; ii) defining the ethical and legal requirements that must be observed in all research activities; (iii) assessing the legal, ethical and societal risks of the technologies and providing technical and organizational mitigation measures; (iv) assisting Consortium partners with legal and ethical issues; (v) setting up a robust monitoring strategy to ensure compliance, involving independent experts as members of the Independent Ethics Board.
IDT researchers also contribute significantly to the organization of specialized workshops, and the dissemination of the project findings and results through scientific publications and presentations in the main Data Protection and Law & Technology Conferences and Workshops (e.g. IVR, Jurix, ICAIL, and AICOL).
The IDT is a Consolidated Research Center recognized by the Catalan Government.
---
Law & Ethics
Human Rights, Data Protection & Ethics
Legal and Ethical Compliance of Data-Driven Technologies
Identification of Legal and Ethical Frameworks
Assessment of Legal and Ethical Risks
Robust Legal and Ethical Monitoring Strategy
Social Acceptability
Technology Acceptance & Trust
Individual and Societal Well-Being
Human-Centered Technologies
Digital Literacy, Awareness Raising and Citizens' Empowerment
Environmental Friendliness and Sustainability
Responsible Research & Innovation
Research, Innovation & Society
Integrity: Reliability, Honesty, Respect and Accountability
Diversity and Inclusion
Anticipation and Reflection
Openness and Transparency
Responsiveness and Adaptive Change
---
---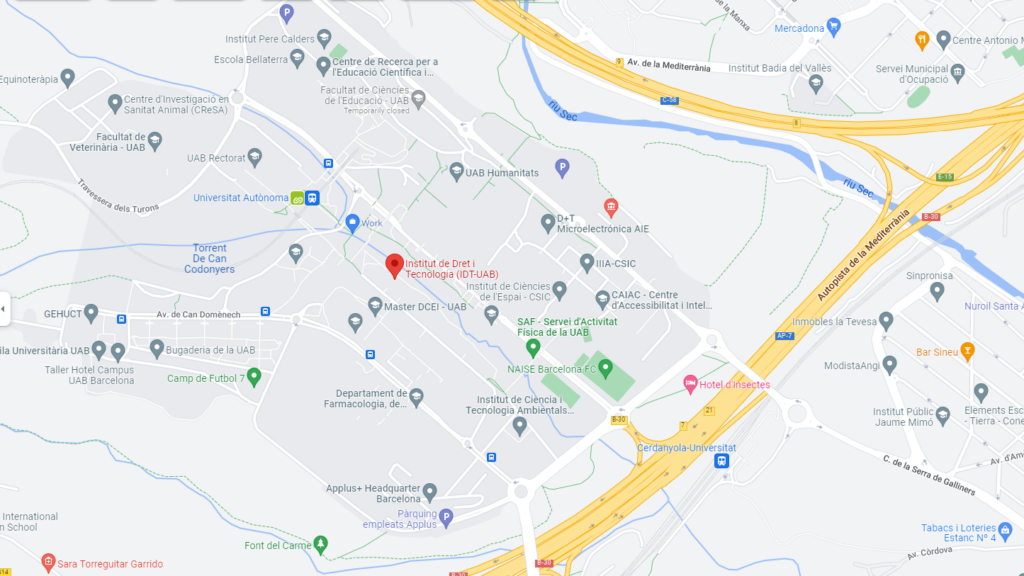 How to reach us
Faculty of Law, B Building, Department of Political Science and Public Law, Campus UAB, 08193 Bellaterra, Barcelona (Spain)