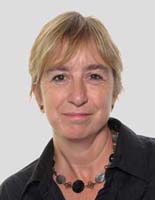 Aline Remael
Em. Prof. dr. Aline Remael was Professor of Translation Theory, Interpreting and Audiovisual Translation/Media Accessibility at the Department of Applied Linguistics/Translators and Interpreters of the University of Antwerp until 31 January 2019, where she was Department Chair from 2013 to 2018.
She remains an active member of TricS, the departmental research group Translation interpreting and Cultural Studies and of the University of Antwerp Expertise Centre for Accessible Media and Culture, OPEN, of which she is the founder.
She is currently an EU-funded guest professor at the Technical University of Ventspils, Latvia (academic year 2019-2020). Her main research interests and publications are in AVT/Media Accessibility, including audio description (AD), and live subtitling with speech recognition. Her secondary research interests extend into translation theory and hybrid forms of translation and interpreting, as well as the convergences between the two domains.
Aline Remael has been a partner in numerous national projects as well as in European Erasmus+ accessibility projects (e.g. ADLAB PRO, on audio description, and ILSA, on interlingual live subtitling). She was the chief editor of WoS journal Linguistica Antverpiensia NS-Themes in Translation Studies from 2002 until 2012, and remains a member of its editorial board.
She is on the advisory boards of The Translator and Perspectives, the chair of the EST Young Scholar Prize Committee and a board member of the European Network of Public Service Interpreting (ENPSIT). In 2018 she received the ESIST Jan Ivarsson Award for invaluable services to the field of audiovisual translation.