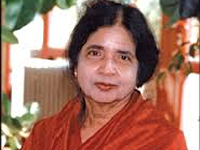 Jean Arasanayagam
Jean Arasanayagam is a giant figure of Sri Lankan writing. A prolific author, she has written numerous collections of poetry, novels and short story collections. Of Burgher origin, she married a Tamil, and was caught in the political turmoil of the 1983 riots, when she was interned with her family in a refugee camp for Tamils. These events shaped much of her writing of the subsequent years. In a sensual yet energetic poetic language (also when writing fiction), she has explored both her Burgher origin and the Tamil ancestry of her husband, as well as her own cultural in-betweenness. She has also written extensively about the ethnic conflict, in short story collections such as All is burning (1995) or In the Garden Secretly, and other stories (2000).
POETRY
Kindura(1973)
Poems of Season Beginning and a Season Over (1977)
Apocalypse '83 (1984)
The Cry of the Kite (1984)
A Colonial Inheritance and Other Poems (1985)
Out of Our Prisons We Emerge (1987)
Trial by Terror (1987)
Reddened Waters Flow Clear (1991)
Shooting the Floricans (1993)
Women, All Women (2000)
Fire in the Village (2000)
The Pomegranate Flower (2005)
Destinations (2006)
Landscapes of Retrieval (2006)
Travelling Woman (2008)

PROSE
The Cry of the Kite (A collection of short stories) (1984)
The Outsider (1989)vFragments of a Journey (1992)
All is Burning (1995)
Peacocks and Dreams (1996)
In the Garden Secretly, and other stories (2000)
Inheritance (2001)
The Famished Waterfall (2004)
One Evening (2006)
Dragons in the Wilderness (2007)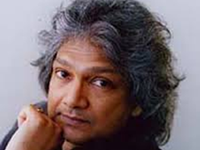 Romesh Gunesekera
Romesh Gunesekera grew up in Sri Lanka and the Philippines, moving to England in 1971. He is the most renowned diasporic Sri Lankan writer living in the UK. His works have received several literary distinctions and, in some case, shortlisted for the Booker Prize for Fiction. He lives in London, but travels widely for festivals, workshops and British Council tours. In recent years he has held writing residencies in different places of the world, such as Hong Kong, Singapore and Denmark. He is a Fellow of the Royal Society of Literature
Monkfish Moon – 1992
Reef – 1994
The Sandglass – 1998
Heaven's Edge – 2002
The Match – 2006
The Prisoner of Paradise – 2012
Noon Tide Toll – 2013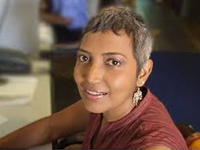 Ameena Hussein
Born and based in Colombo, Ameena worked as a sociologist before embarking on a full time writing career. As a creative writer she has published two collections of short stories and a novel, The Moon in the Water (2009), where she explores, among other topics, aspects of the Muslim culture in Sri Lanka. She is also the editor of Blue: Stories for Adults (2010) a ground-breaking collection, since eroticism has been conspicuously absent from Sri Lankan literature. She is the co-founder, with her husband, of the Perera-Hussein publishing firm, very active in the promotion of contemporary Sri Lankan authors
(editor, in collaboration with Bhawani Loganathan) An Annotated Bibliography on Violence Against Women in Sri Lanka. ICES, Colombo, Sri Lanka, 1999.
Fifteen. ICES, Colombo, Sri Lanka, 1999
Sometimes there is no Blood: Violence against Women in Rural Sri Lanka. ICES, Colombo, Sri Lanka, 2000.
Zillig. Perera Hussein Publishing House, Colombo, Sri Lanka, 2003
(editor) Race: Identity, Caste and Conflict in the South Asian Context. ICES, Colombo Sri Lanka, 2004.
(editor) Milk Rice. Perera Hussein Publishing House, Colombo, Sri Lanka, 2008
The Moon in the Water. Perera Hussein Publishing House, Colombo, Sri Lanka 2009
(editor) Blue: Stories for Adults. Perera Hussein Publishing House, Colombo, Sri Lanka 2010.
(editor) Milk Rice II. Perera Hussein Publishing House, Colombo, Sri Lanka, 2013.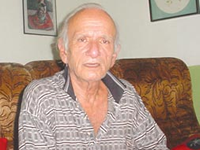 Carl Muller
Born in 1935, Carl Muller is best known for his trilogy The Jam Fruit Tree, Yakada Yaka and Once Upon A Tender Time, which explore the Burgher inheritance of Sri Lanka with a voice full of humour. He is a prolific writer, having written poetry, fiction, children's books, short stories, historical fiction, a collection of essays and monographs. He has received numerous awards and prizes for his writing, and currently lives in Kandy.
The Jam Fruit Tree (The Burgher Trilogy, Book 1) (1993)
Yakada Yaka (The Burgher Trilogy, Book 2) (1994)
Once Upon a Tender Time (The Burgher Trilogy, Book 3) (2003)
Colombo: A Novel (1995)
The Python Of Pura Malai And Other Stories (1995)
Wedding night: Stories (1997)
Children of the Lion (1997)
Spit and Polish (1998)
A Funny Thing Happened On The Way To The Cemetery (2005)
Maudiegirl and the von Bloss Kitchen (2009)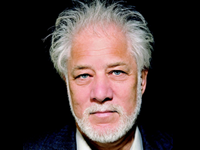 Michael Ondaatje
Michael Ondaatje was born in Sri Lanka and moved to England in 1954. In 1962 moved to Canada, where he has lived ever since. He was educated at the University of Toronto and Queen's University in Kingston, Ontario, and began teaching at York University in Toronto in 1971, a position he gave up to become a full time writer. He is the best known of diasporic Sri Lankan writers. In 1992 he founded the Gratiaen prize with the money he received as joint-winner of the Booker Prize for his novel The English Patient. This novel was made into a widely acclaimed film by director Anthony Minghella, and in turn this success further increased the writer's popularity. Michael Ondaatje lives in Toronto with his wife, Linda Spalding, with whom he edits the literary journal Brick.
Coming Through Slaughter, Marion Boyars, 1976.
There's A Trick with a Knife I'm Learning to Do: Poems 1963-1978, McClelland & Stewart, 1979.
The Collected Works of Billy the Kid: Left Handed Poems, Marion Boyars, 1981.
Running in the Family, Gollancz, 1983.
In the Skin of a Lion, Secker & Warburg, 1987.
The Cinnamon Peeler: Selected Poems, Picador, 1989.
The English Patient, Picador, 1992.
Handwriting: Poems, Bloomsbury, 1998.
Anil's Ghost, Bloomsbury, 2000.
Divisadero, Bloomsbury, 2007.
The Cat's Table, McClelland & Stewart, 2011.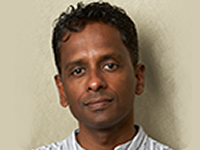 Shyam Selvadurai
Shyam Selvadurai was born in Colombo in 1965, and is a Canadian citizen since the age of nineteen. He studied creative writing and theatre and has a BFA from York University, as well as an MFA in Creative Writing from the University of British Columbia. Funny Boy, his first novel, won the W.H. Smith/ Books in Canada First Novel Award and the Lambda Literary Award in the US. His books have since been published in the US, the UK and India, and published in translation in France, Germany, Italy, Spain, Sweden, Denmark, Turkey and Israel.
Funny Boy: A Novel in Six Stories. Toronto, McClelland & Stewart, 1994.
Cinnamon Gardens, New York, Hyperion, 1999.
Swimming in the Monsoon Sea, Tundra Books, Canada and USA, 2007.
The Hungry Ghosts. Doubleday Canada, 2013.
Many Roads Through Paradise: An Anthology of Sri Lankan Literature, Penguin India, 2014.
(Editor) Story-Wallah! A Celebration of South Asian Fiction. Thomas Allen & Son Ltd, Canada, 2004.(Editor) Many Roads Through Paradise: An Anthology of Sri Lankan Literature.Penguin India, 2014.
Manuka Wijesinghe
Manuka Wijesinghe is the author of several plays and of two novels in English, Monsoons and Potholes (2006) and Theravada Man (2009), part of a trilogy of which the last title, Sinhala Only, is still unpublished. Her writing is characterized by an irreverent and ironic treatment of social and political matters. As she has stated: "My books deal with the pluralistic culture, a tolerant society, heaps and heaps of humour and the absurdity of politics. With its myopia or deliberate megalomania begins the demise of civil society, that probably would function perfectly normally if they would not interfere."
Wijesinghe lives between Sri Lanka and Germany.
Monsoons and Potholes.Perera Hussein Publishing House, Colombo, Sri Lanka. (2006)
Theravada Man. Bay Owl Press, Sri Lanka (2009)