Next we will retail our routine laboratory techniques. Additionally we can also offer other techniques that can be done by other laboratories of our centre.
• Routine and special staining: Haematoxylin/Eosin (H/E), Masson's Trichrome (MS), Kluver-Barrera (KB), Periodic acid Schiff (PAS), Pearls, etc.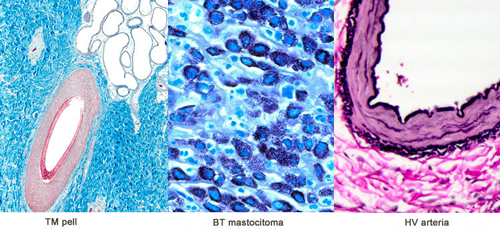 • Argentic impregnation: grocott, methenamine, etc.
• Immunohistochemistry: :
Cytokeratins
Laminin
Vimentin
Colllagens
Actins
GFAP
Neurofilaments
Olig2
CD3
CD20
CD31
Factor VIII
Ubiquitin
HSPs
Neospora
oxoplasma
Ask for others. We have more than 150 antibodies working in different species. We also set up other antibodies under petition.
• Ultrastructure:
Study of Toluidine Blue stained semithin sections
Study of ultrathin sections by scanning electron microscopy.